ON SALE NOW, and selling fast, get ready folks, this tours going to be MASIVE!
CHECK THIS OUT KADAVAR & BLUES PILLS – Promo video!!!!!!
Hailing from Berlin, Germany, KADAVAR are the new reigning kings of 70's inspired psyched out occult rock, and they're touring Australia for the first time EVER this Nov/Dec, with none other than Sweden's finest garage/psych troubadours BLUES PILLS
KADAVAR & BLUES PILLS Facebook event page // JOIN HERE!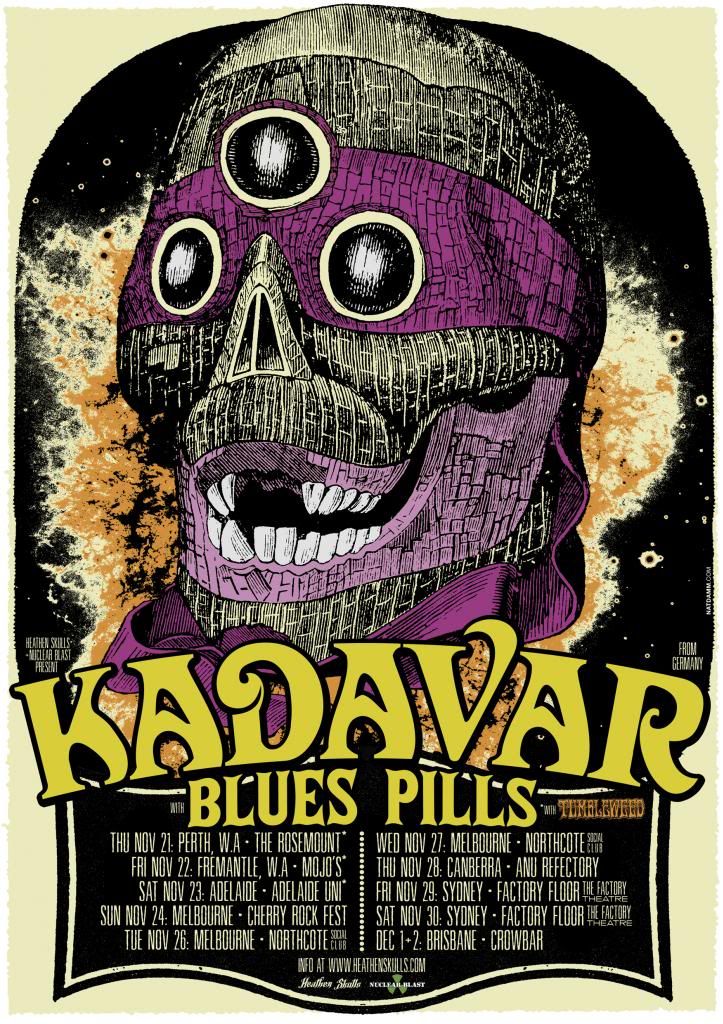 NOVEMBER
Thursday 21st: Perth, W.A @ The Rosemount * w/ TUMBLEWEED
Tickets Buy Tickets Here! // Doors: 8:00pm
Friday 22nd: Fremantle, W.A @ MoJo's * w/ TUMBLEWEED
Tickets Buy Tickets Here! // Doors: 8:00pm
Saturday 23rd: Adelaide @ Adelaide Uni Bar * w/ TUMBLEWEED
Tickets Buy Tickets Here! // Doors: 7:00pm
Sunday 24th: Melbourne @ Cherry Fest
(at Cherry Bar down AC/DC Lane, Melbourne City)
Tickets Buy Tickets Here! // Doors: 1:00pm – 10:00pm
Tuesday 26th: Melbourne @ Northcote Social Club
Tickets Buy Tickets Here! // Doors: 8:00pm
Wednesday 27th: Melbourne @ Northcote Social Club
Tickets Buy Tickets Here! // Doors: 8:00pm
Thursday 28th: Canberra @ ANU Refectory
Tickets Buy Tickets Here! // Doors: 8:00pm bookings
Friday 29th: Sydney @ The Factory Floor
(Located on the ground floor of The Factory Theatre in Marrickville)
Tickets Buy Tickets Here! // Doors: 7:00pm
Saturday 30th: Sydney @ The Factory Floor
(Located on the ground floor of The Factory Theatre in Marrickville)
Tickets Buy Tickets Here! // Doors: 6:00pm
DECEMBER
Sunday 1st: Brisbane @ Crowbar
w/ Very special guests
Tickets Buy Tickets Here! // Doors: 8:00pm
Monday 2nd: Brisbane @ Crowbar
End of tour party show w/ Very special guests
Tickets Buy Tickets Here! // Doors: 8:00pm
Thursday 5th: Brisbane @ The Tempo * w/ TUMBLEWEED
Tickets Buy Tickets Here! // Doors: 8:00pm
Friday 6th: Sydney @ The Metro * w/ TUMBLEWEED
Tickets Buy Tickets Here! // Doors: 8:00pm
Saturday 7th: Wollongong @ Waves * w/ TUMBLEWEED
Tickets Buy Tickets Here! // Doors: 8:00pm