EYEHATEGOD (New Orleans / USA) first EVER Aussie tour!
New Orleans crushing lords of Southern Sludge Doom are coming your way, NEXT WEEK!!!!!!!!!!!!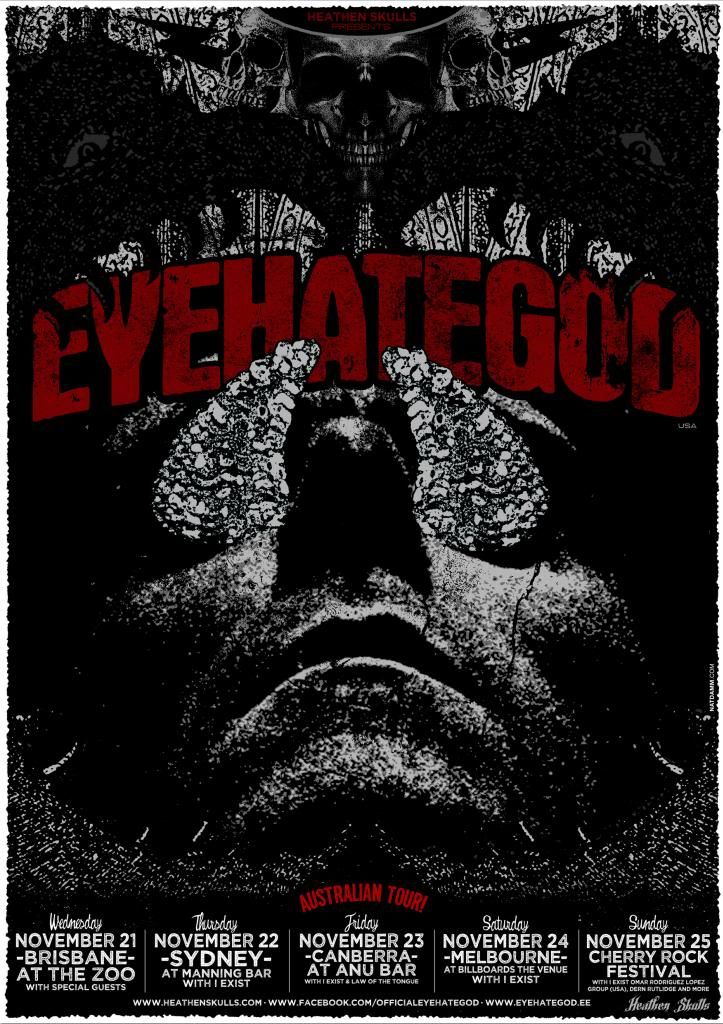 TICKETS – NOW ON SALE (be quick – selling fast)
See venues / outlets below, or visit HEATHEN SKULLS Facebook
Facebook events page, join here!
Wednesday 21st: Brisbane @ The Zoo
w/ The Fevered & Shackles
Doors: 7:30pm
Tickets from buy tickets here
Thursday 22nd: Sydney @ Manning Bar
w/ I EXIST + special guests
Doors: 8:00pm
Tickets from buy tickets here
Friday 23rd: Canberra @ ANU Bar
w/ I EXIST & Law of the Tongue
Doors: 8:00pm
Tickets from buy tickets here
Saturday 24th: Melbourne @ Billboards the Venue
w/ I EXIST + special guests
DOORS: This is an EARLY SHOW 5:00pm – 9:00m (EHG on from 7:00 – 9:00)
Tickets from buy tickets here
Sunday 25th: Melbourne@ Cherry Festival
(at Cherry Bar, down AC/DC Lane)
w/ I EXIST, Omar Rodriguez Lopez, Dern Rutlidge, Henry Wagons, River of Snakes, Frankenbok + many more
Tickets from buy tickets here
*
EHG TOUR – FACEBOOK EVENTS PAGE: click here and join the party!
*
Hailing from what the band openly refers to as, the new Vietnam; Eyehategod descended upon New Orleans in 1988, they've since become one of the most highly regarded early pioneers of the sludge and doom metal genre.
In their 23 years Eyehategod have created a landmark legacy that's influenced a whole generation of aspiring doom warriors, whilst creating an undisputed cult like following that has placed them in the high leagues of such legendary sludge and doom artists like Neurosis, St Vitus, The Obsessed, The Melvins, and Kyuss.
Hailed by critics, hated by the law, and worshipped by their fans, Eyehategod are as real as any band can possible get, with out dying for their art.
Eyehategod are a no holds bared, totally uncompromising, all out assault on the senses.
With 4 studio albums to their name, their last being "Confederacy of broken Lives" (released in 2000), Eyehategod went on hiatus in the early 2000's around the time that Jimmy Bower's commitments to DOWN took precedent, after which time all the remaining members of Eyehaegod, minus Jimmy, formed Outlaw Order, a like minded side project of sorts that captured a similar level of intensity and sonic annihilation.
In 2012 Eyehategod released their first new recordings in almost 12 years, the first release being a single aptly titled "New Orleans is the new Vietnam".
In November Eyehategod will be making their maiden voyage south of the equator, they'll be headlining the very first Cherry Festival, together with headlining shows in Canberra, Sydney, Brisbane and Melbourne.