Fu Manchu (USA) & Black Cobra (USA) tour NZ/Aus!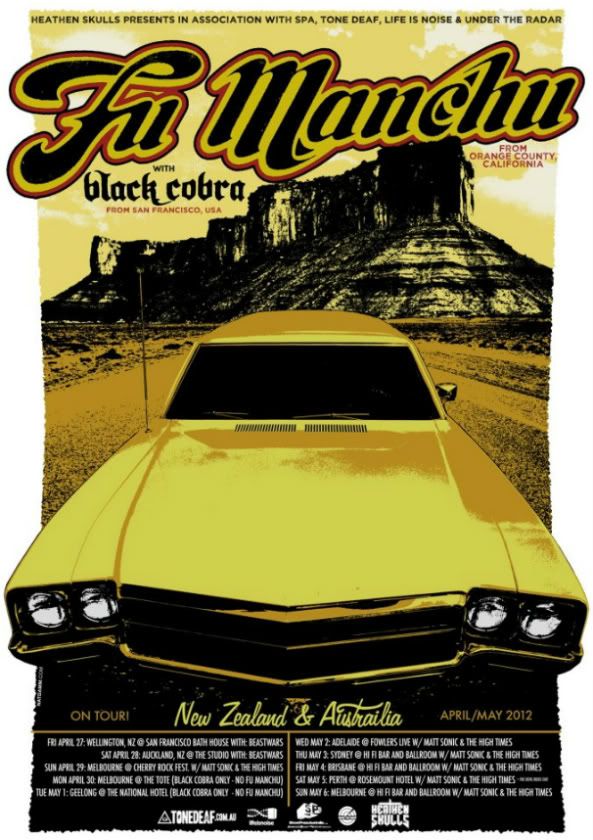 After a 10 year absence from this side of the equator, since touring their epic 2002 album California Crossing, Heathen Skulls, SPA, Tone Deaf, Under the Radar & Life is Noise are proud to present the highly anticipated return of Southern California's reigning kings of stoner rock, FU MANCHU!
Fu Manchu (California, USA) & Black Cobra (San Francisco, USA): NZ & Australia / April 7th – May 6th!
Fu Manchu media:
Evil Eye (clip): www.youtube.com/watch?v=AqYeedwEA4E
Drive (fan made clip): www.youtube.com/watch?v=lUyND1_cgJQ&feature=related
Mongoose (live in Montreal, 2011): www.youtube.com/watch?v=XoSaRFGpxSc
King of the road (clip): www.youtube.com/watch?v=_Zko7pBeHkk
Interview with Bob Balch, 2010: www.youtube.com/watch?v=wEqTa6zui5c
Black Cobra media:
Lightning in his hands (live): www.youtube.com/watch?v=vI2sppgk9C8
Swords for Teeth (Live): www.youtube.com/watch?v=De01TnWfqzA&feature=related
Avalanche (audio only): www.youtube.com/watch?v=ZRe8EMTCl-w
Abyss (audio only): www.youtube.com/watch?v=tC7nZbUCkxg&feature=related
Facebook events page: www.facebook.com/events/333619770008886/

APRIL
THURSDAY 26TH: AUCKLAND, NZ @ KINGS ARMS TAVERN
(Fu Manchu not playing, Black Cobra ONLY)
With special guests Imploder + Arc of Ascent
Tickets $25 + BF, available from www.undertheradar.co.nz
Doors @ 8:00pm
FRIDAY 27TH: WELLINGTON, NZ @ SAN FRANCISCO BATH HOUSE
With special guests: Beastwars
Tickets available from www.undertheradar.co.nz
Doors @ 8:00pm
SATURDAY 28TH: AUCKLAND, NZ @ THE STUDIO
With special guests: Beastwars
Tickets available from www.undertheradar.co.nz
Doors @ 8:00pm
SUNDAY 29TH: MELBOURNE @ CHERRY ROCK FESTIVAL
w/ Matt Sonic and the High Times + many other artists!
Tickets available from www.cherryrock.com.au
Doors: This is an all day event, gates 12:00pm – 9:00pm
MONDAY 30TH: MELBOURNE @ THE TOTE
(Black Cobra headline show, Fu Manchu NOT playing)
With special guests: Hotel Wrecking City Traders + Don Fernando
Tickets $15 + $2 bf Buy Tickets HERE! Paypal payment address: mailorderstuff@gmail.com
Also available from Collector Corner (Missing Link) and The Tote
Doors: 8:00pm
MAY
TUESDAY 1ST: GEELONG @ THE NATIONAL HOTEL
(Black Cobra headline show, Fu Manchu NOT playing)
With special guests: Dead & Goon Bag Colostomy
Tickets available from www.oztix.com.au
Doors: 8:00pm
WEDNESDAY 2ND: ADELAIDE @ FOWLERS LIVE
w/ Matt Sonic and the High Times
Tickets available from www.moshtix.com.au
Doors: 7:30pm
THURSDAY 3RD: SYDNEY @ HI FI BAR AND BALLROOM
w/ Matt Sonic and the High Times
Tickets available from www.moshtix.com.au
Doors: 8:00pm
FRIDAY 4TH: BRISBANE @ HI FI BAR AND BALLROOM
w/ Matt Sonic and the High Times
Tickets available from www.moshtix.com.au
Doors: 8:00pm
SATURDAY 5TH: PERTH @ ROSEMOUNT HOTEL
w/ Matt Sonic and the High Times + The Devil Rides Out
Tickets available from www.oztix.com.au & www.lifeisnoise.com
Doors: 8:00pm
SUNDAY 6TH: MELBOURNE @ HI FI BAR AND BALLROOM – SELLING FAST!
w/ Matt Sonic and the High Times
Tickets available from www.moshtix.com.au
Doors: 7:30pm
MONDAY 7TH: MELBOURNE @ HI FI BAR AND BALLROOM – JUST ANNOUNCED!
FU MANCHU will be playing "IN SEARCH OF" in it's entirety for this show ONLY!
Tickets on sale WEDNESDAY 25TH OF APRIL from www.moshtix.com.au
Doors: 7:00pm w/ Matt Sonic and the High Times
26 Responses to "Fu Manchu (USA) & Black Cobra (USA) tour NZ/Aus!"
… [Trackback]

[…] There you will find 31443 more Infos: heathenskulls.com/fu-manchu-usa-and-black-cobra-usa-tour-australia/ […]

… [Trackback]

[…] Read More here: heathenskulls.com/fu-manchu-usa-and-black-cobra-usa-tour-australia/ […]

… [Trackback]

[…] There you will find 12227 more Infos: heathenskulls.com/fu-manchu-usa-and-black-cobra-usa-tour-australia/ […]

… [Trackback]

[…] Find More Informations here: heathenskulls.com/fu-manchu-usa-and-black-cobra-usa-tour-australia/ […]

… [Trackback]

[…] Read More here: heathenskulls.com/fu-manchu-usa-and-black-cobra-usa-tour-australia/ […]

… [Trackback]

[…] Read More: heathenskulls.com/fu-manchu-usa-and-black-cobra-usa-tour-australia/ […]

… [Trackback]

[…] Find More Informations here: heathenskulls.com/fu-manchu-usa-and-black-cobra-usa-tour-australia/ […]

… [Trackback]

[…] Read More here: heathenskulls.com/fu-manchu-usa-and-black-cobra-usa-tour-australia/ […]

… [Trackback]

[…] Find More Informations here: heathenskulls.com/fu-manchu-usa-and-black-cobra-usa-tour-australia/ […]

… [Trackback]

[…] Read More here: heathenskulls.com/fu-manchu-usa-and-black-cobra-usa-tour-australia/ […]

… [Trackback]

[…] There you will find 68562 more Infos: heathenskulls.com/fu-manchu-usa-and-black-cobra-usa-tour-australia/ […]

… [Trackback]

[…] Find More Informations here: heathenskulls.com/fu-manchu-usa-and-black-cobra-usa-tour-australia/ […]

Geraldo Ghea

I found a great…

… [Trackback]

[…] Informations on that Topic: heathenskulls.com/fu-manchu-usa-and-black-cobra-usa-tour-australia/ […]

… [Trackback]

[…] There you will find 25485 more Infos: heathenskulls.com/fu-manchu-usa-and-black-cobra-usa-tour-australia/ […]

… [Trackback]

[…] Read More Infos here: heathenskulls.com/fu-manchu-usa-and-black-cobra-usa-tour-australia/ […]

… [Trackback]

[…] Read More here: heathenskulls.com/fu-manchu-usa-and-black-cobra-usa-tour-australia/ […]

… [Trackback]

[…] There you will find 31124 more Infos: heathenskulls.com/fu-manchu-usa-and-black-cobra-usa-tour-australia/ […]

… [Trackback]

[…] Informations on that Topic: heathenskulls.com/fu-manchu-usa-and-black-cobra-usa-tour-australia/ […]

… [Trackback]

[…] Read More here: heathenskulls.com/fu-manchu-usa-and-black-cobra-usa-tour-australia/ […]

… [Trackback]

[…] Read More: heathenskulls.com/fu-manchu-usa-and-black-cobra-usa-tour-australia/ […]

… [Trackback]

[…] Find More Informations here: heathenskulls.com/fu-manchu-usa-and-black-cobra-usa-tour-australia/ […]

… [Trackback]

[…] There you will find 79701 more Infos: heathenskulls.com/fu-manchu-usa-and-black-cobra-usa-tour-australia/ […]

… [Trackback]

[…] Read More here: heathenskulls.com/fu-manchu-usa-and-black-cobra-usa-tour-australia/ […]

… [Trackback]

[…] Read More here: heathenskulls.com/fu-manchu-usa-and-black-cobra-usa-tour-australia/ […]

… [Trackback]

[…] Read More here: heathenskulls.com/fu-manchu-usa-and-black-cobra-usa-tour-australia/ […]