Godspeed You! Black Emperor (Canada) NZ Tour Feb 2013
NEW ZEALAND shows nearly SOLD OUT! Get ticket immediately!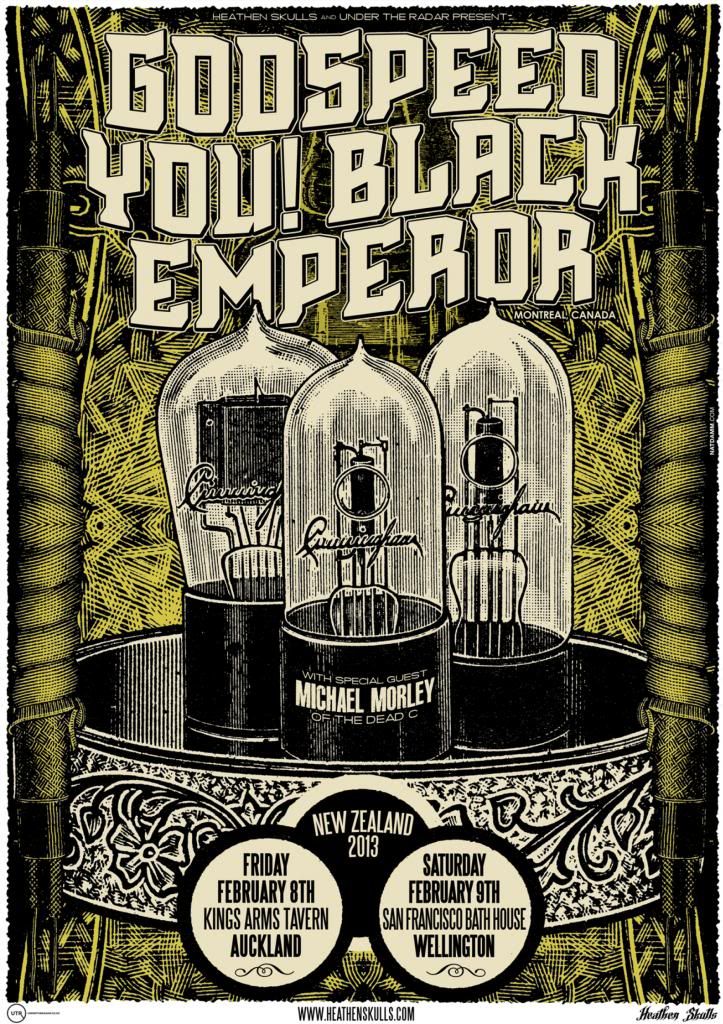 HEATHEN SKULLS & UNDER THE RADAR proudly present Godspeed You! Black Emperor (Montreal, Canada) & Michael Morley (The Dead C)!
Hailing from Montreal, Canada, Godspeed you! Black Emperor are a musical collective that rose to prominence in 1994, via their own record label Constellation records, as a fresh voice is the somewhat stagnant, and very much derivative, industry labeled, post rock scene. Their name was taken from a 70's black n white documentary about the notorious Japanese biker bang the Black Emperors.
Godspeed you! Black Emperor are with out a doubt one of the truly original artists of their genre, a ground breaking musical force that have pushed the envelope of the sonic stratosphere to the next logical level. Through the use of film projections and music as a cinematic accompaniment, they have single handedly broke down all the barriers set before them and gone far beyond the limited scope of what being in a band could possible mean.
After a string of highly acclaimed studio albums, all of which help set new standards in post rock and instrumental music, Godspeed you! Black Emperor went on hiatus so that their various band members could explore new territories in their countless other musical endeavor, some of which being A Silver Mt Zion, Set Fire to Flames, and Fly Pan Am.
In late 2010, after a 7 year hiatus, Godspeed you! Black Emperor has returned to the stage. With a new studio album released "Allelujah! Don't Bend! Ascend!" Godspeed! You Black Emperor have been consistently presenting performance around the globe, most notable curating All Tomorrows Parties in the UK in 2011.
In February 2013, for the first time EVER, New Zealand will finally get to experience Godspeed you! Black Emperor, with very special guest (opening both shows), Dunedin's own, Mr Michael Morley (The Dead C).
Facebook events page join here
FRIDAY 8TH OF FEBRUARY @ Kings Arms Tavern – Auckland
Tickets: SOLD OUT
A limited amount of tickets will be made available on the door! Get there early, or miss out!!!!!!!!
SPECIAL GUESTt: Michael Morley (The Dead C / GATE, Dunedin)
SATURDAY 9TH OF FEBRUARY @ The Hunter Lounge (At Victoria University) – Wellington
This was originally at: San Francisco Bath House
Tickets: More tickets have been released, Under the Radar – Buy Tickets HERE!!!!!
SPECIAL GUESTt: Michael Morley (The Dead C / GATE, Dunedin)